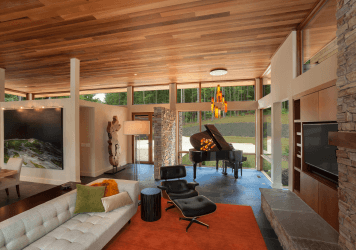 Most custom home builders in Charlotte can review architectural plans but lack the experience and creativity to suggest appealing alternatives or to give insight on unforeseen challenges. At Artistic Contractors, we take pride in exploring all options available to execute a well-planned project before breaking ground. This ensures that your custom home is built on-schedule and you are made aware of all potential design selections.
At Artistic we use the most up-to-date technology in project management, Builder Trend software. This unique software tracks everything from the construction schedule to your selections and budget, all of which can be managed from your cell phone or computer. So whether on vacation or traveling for business, oversight of your project can be managed with ease.
No matter what stage in the process, we encourage potential clients to take the time to meet with us. Consultations are free; we would love the opportunity to explore your particular vision and turn your custom home dream into a reality.
Artistic Contractors is a home builder with a reputation for consistent innovation and top notch design.
Plaza Midwood Craftsman
admin
2018-08-13T16:13:58+00:00
Lake Norman Modern Retreat
admin
2018-08-13T16:15:44+00:00
Modern Providence Plantation Palace
admin
2018-08-13T16:22:53+00:00

Our Reviews & Recognitions
Get Your New Project Started
BuilderTREND Client Login